–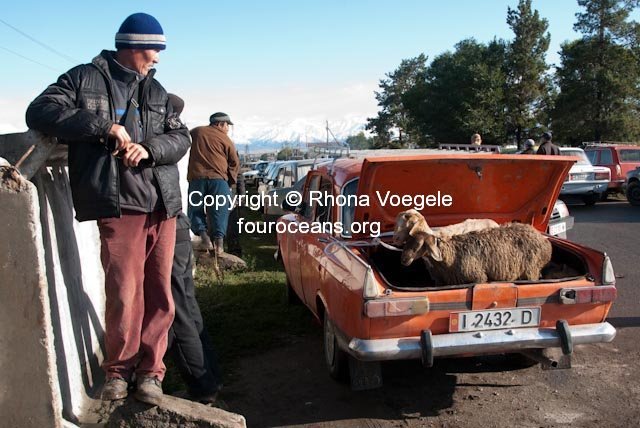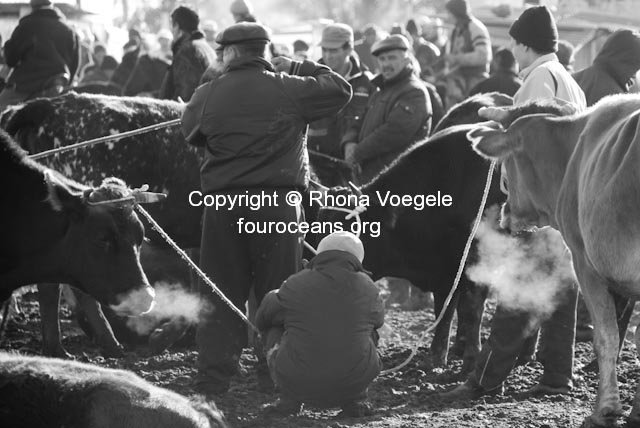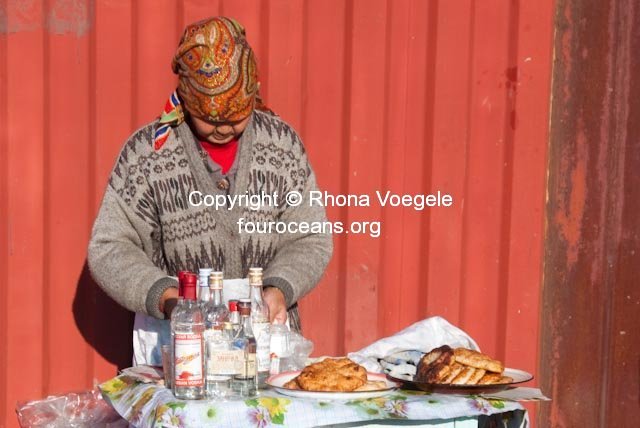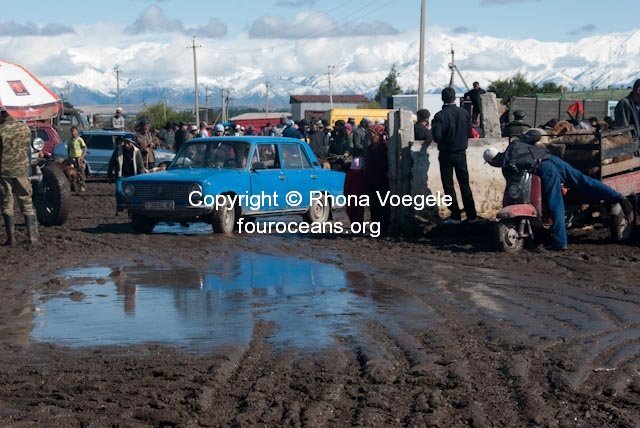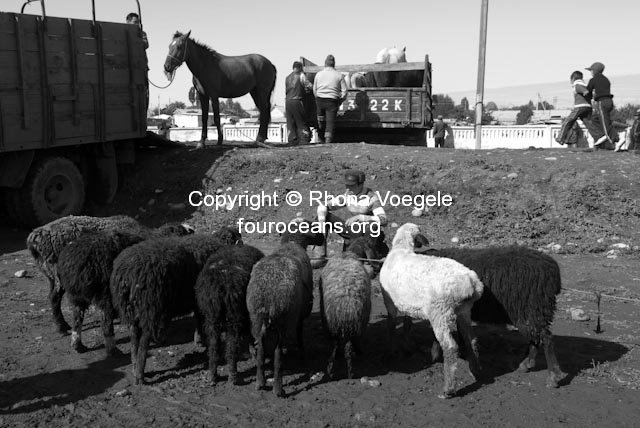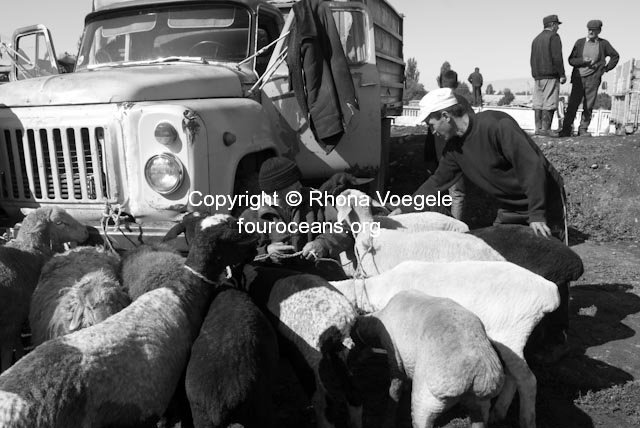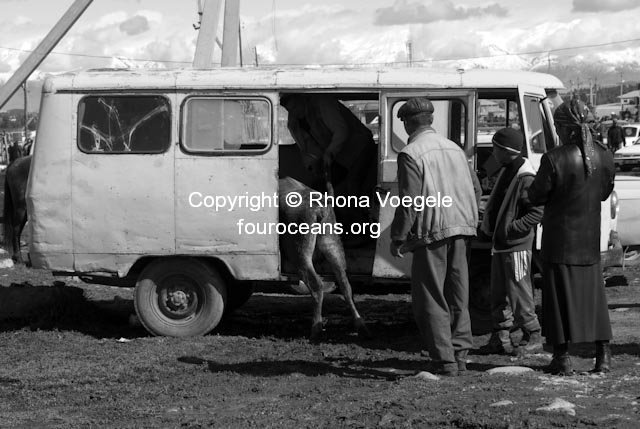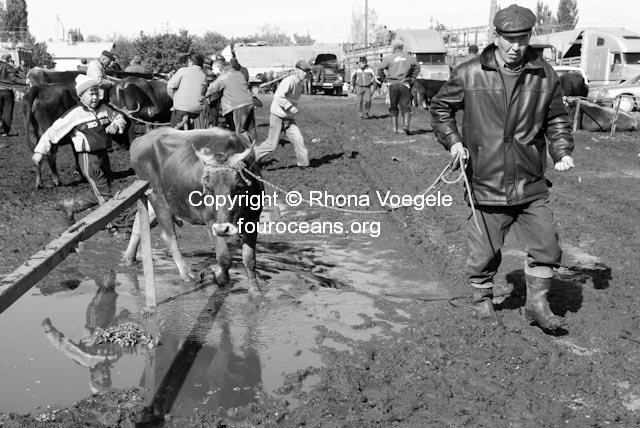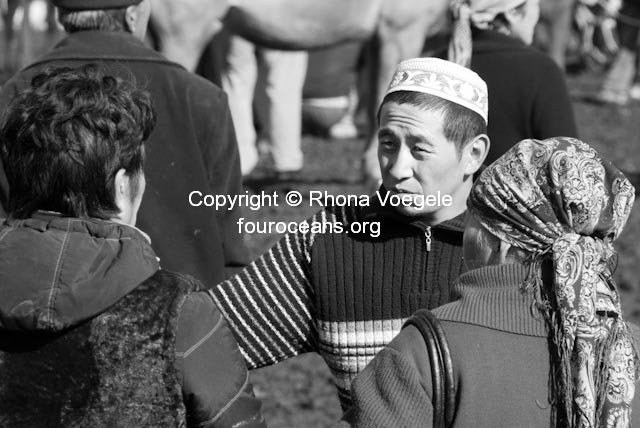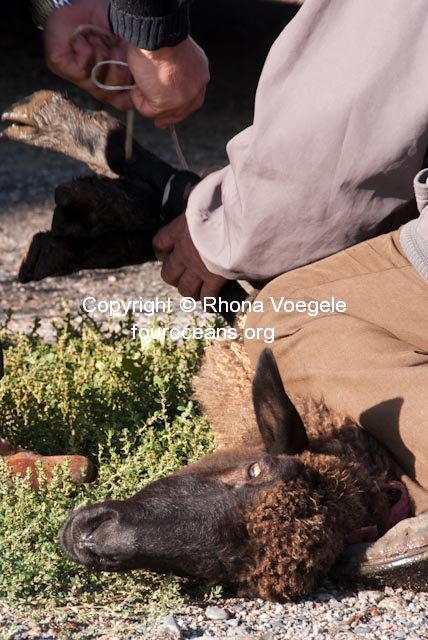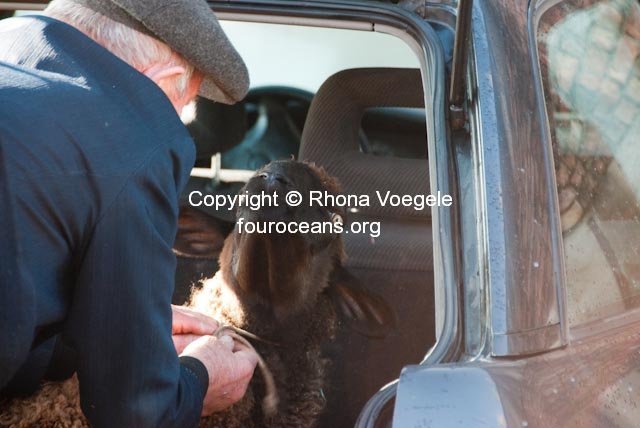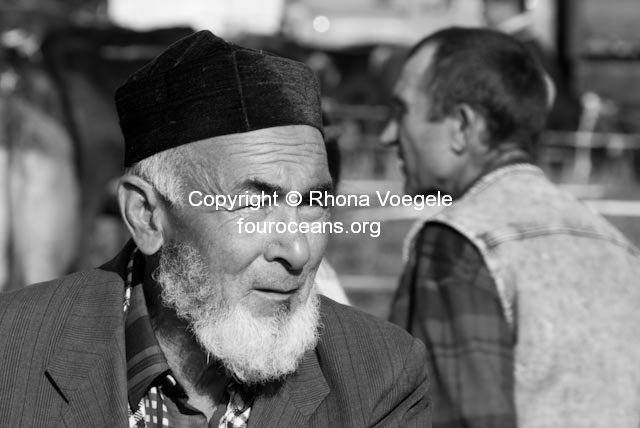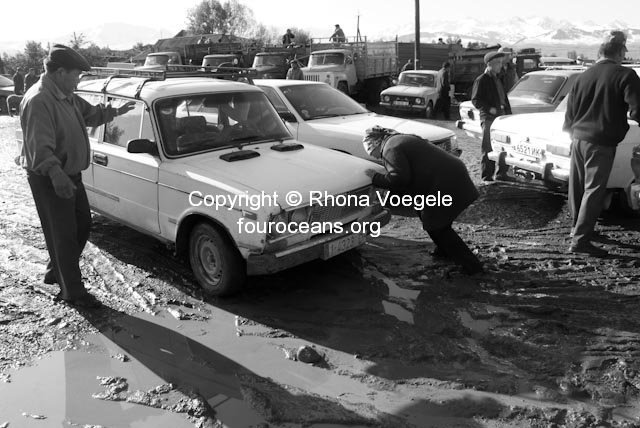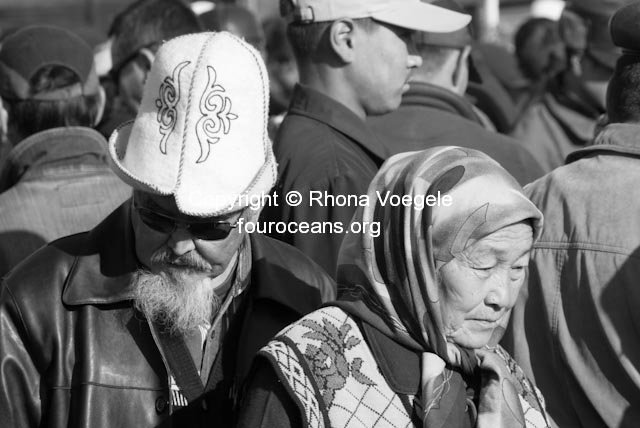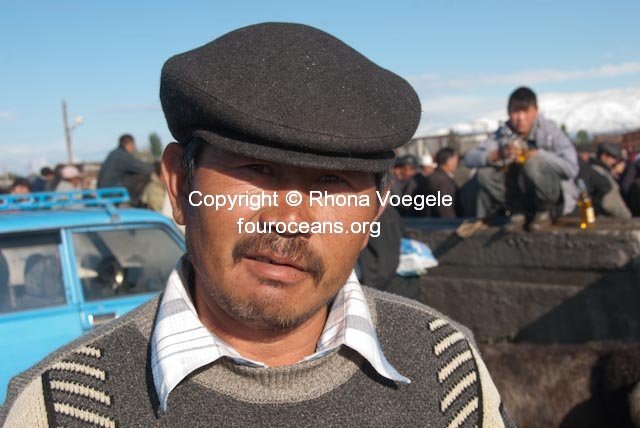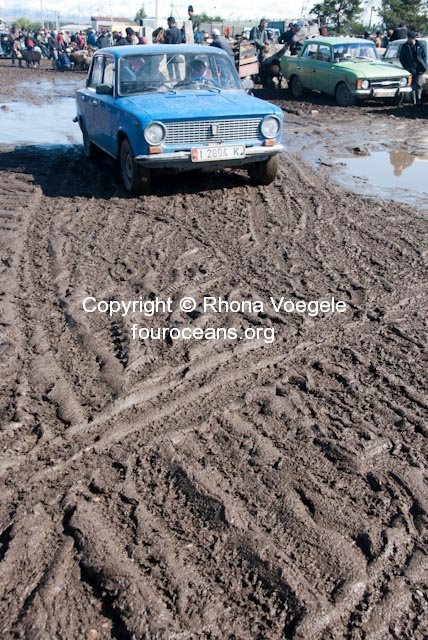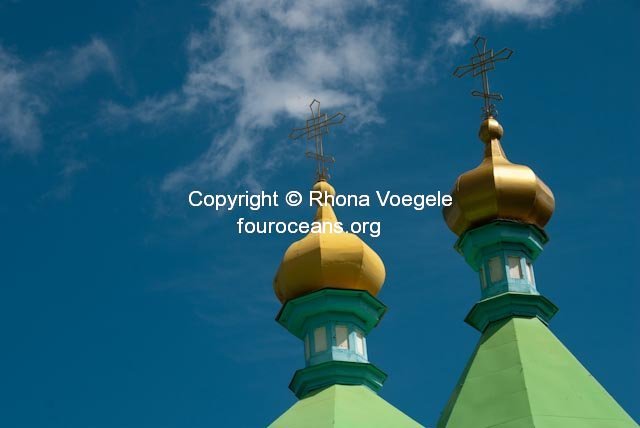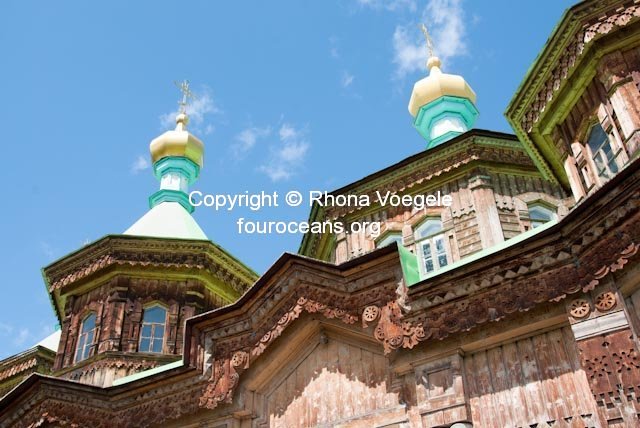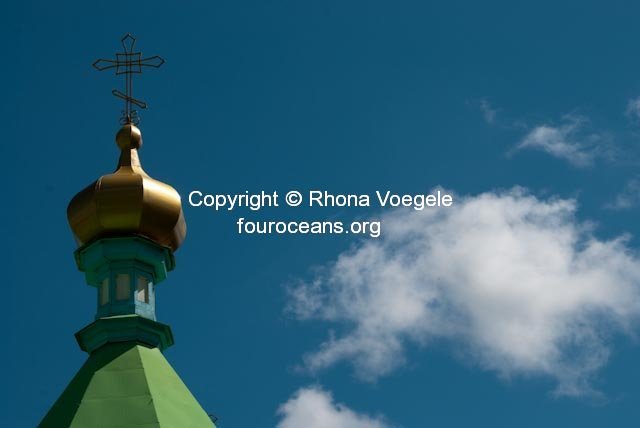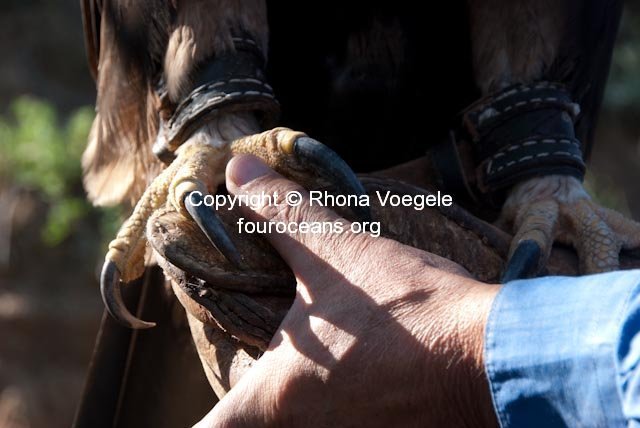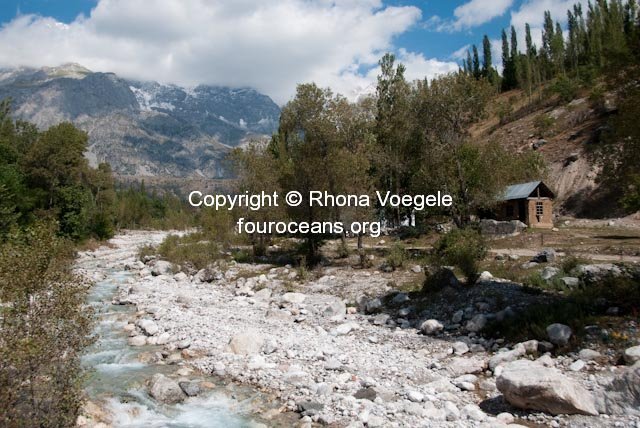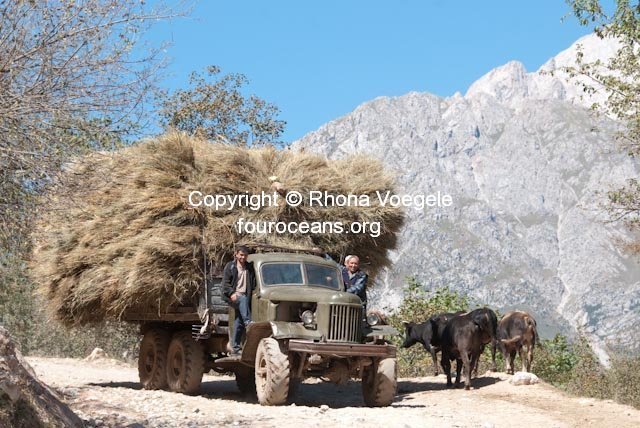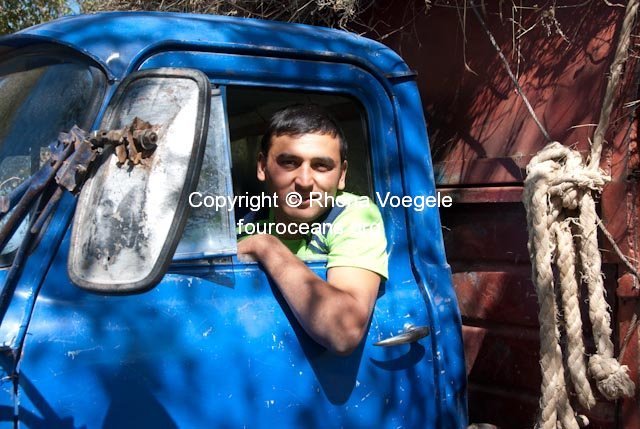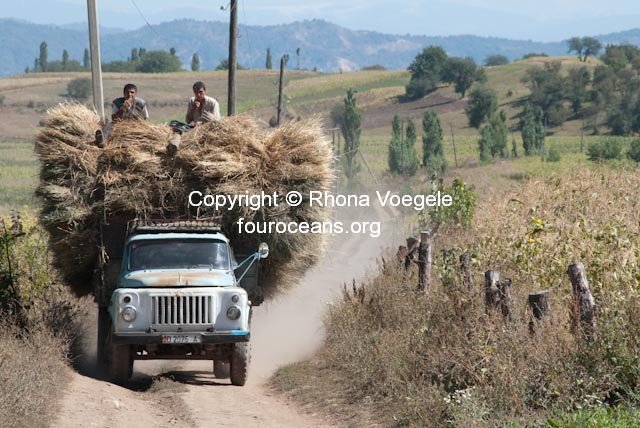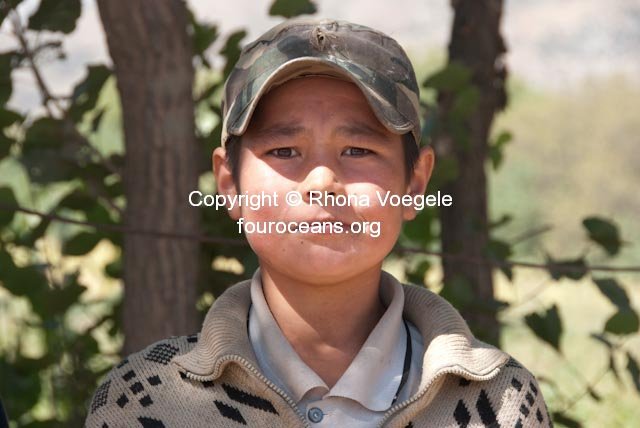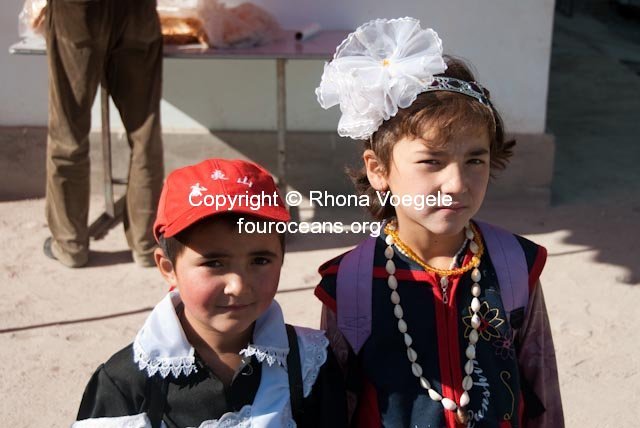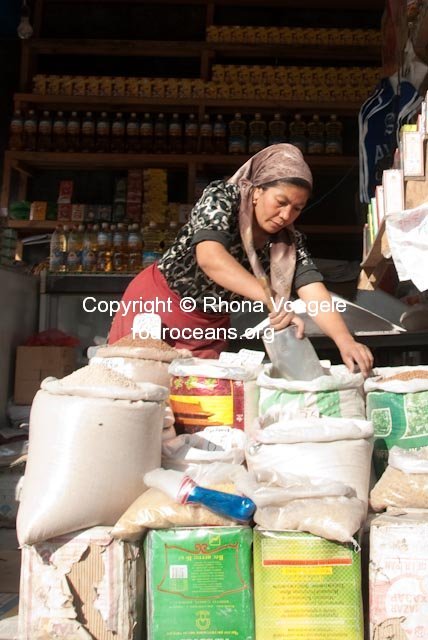 –
While in Karakol we went to the Sunday animal market, Dungan mosque and Russian Orthodox Church. The animal market was a lot better than I expected, having just visited the Kashgar version. There were plenty of animals spread over a large area of squelchy mud due to recent rains. Possibly more interesting was our first real opportunity since arriving in Kyrgyzstan to see lots of people in one place. There's the most amazing mix of facial features here – Russian, Chinese, Mongolian, Middle Eastern and every possible mixture thereof. At times it's difficult to tell tourists from modernly dressed locals, a weird experience after 5 years in China and Japan.
The Dungan minority are Chinese Muslims who fled Xinjiang in the 1880s after persecution there. Seems that's been going on for a while, though I'm not sure if the Dungans are what the Chinese call Uyghurs, Hui or some other minority which no longer exists in China. The mosque had a weird design, very similar to some of the Buddhist temples we saw in Korea with soaring eaves and detailed carvings on the underside of the roof. The Russian Orthodox Church also had a very distinctive design. Built in 1895 of wood the exterior has details and flourishes galore and the onion domes are topped with Russian Orthodox style crosses.
From Karakol we headed along Issyk Kol Lake's southern shore to the small town of Kadji Sai. There we planned on staying at the B&B run by the local eagle hunter but he wasn't home. A friendly neighbour invited us to stay with him instead and we accepted. After a wander down to the choppy lake for some photos of the snowy mountain range on the other side we headed "home" to be entertained and fed fruit by his grandson, Erbol. As the two boys played soccer I was relegated to being the goalpost (by spreading my legs rather inelegantly). Sitting there eating apples freshly picked from the trees in the garden and listening to Russian music on the radio the grandfather had hung up for us I enjoyed the afternoon sun and realised that these are the moments that make travel great. We shared no language with the family but worked out that Erbol's father and family were part of a traditional Kyrgyz music group that had played in America early this year. Not only that but they'd played in Montana, in the town where Brett's sisters went to college. What a crazy coincidence!
Before we left Kadji Sai we did manage to see the eagle and meet his owner. I guess I've never really seen an eagle up close because I was surprised by how huge she was. At age 7 she had a 2m wingspan and was incredibly heavy. I know, I held her for a photo. Apparently at age 10 she'll be set free. There was the option for a hunting show where a rabbit is let loose to be caught by the eagle but we'd decided not to do that as it just seemed cruel. As it turns out rabbits aren't the eagle's usual game, as the eagle hunter told us in sign language they're a pain to catch and they're too small to be worth the effort. In the summer he takes her out to hunt foxes and wolves.
Our next destination was Arslanbob though we didn't exactly take the most direct route. From Kadji Sai we went west to Balykchy then down south to Naryn. There we were told that the best way to get to Arslanbob was to go northwest to Bishkek (6hrs) then southwest  to Arslanbob (8hrs). Silly of us to think that it would be possible to head directly west from Naryn and get to Arslanbob. Actually it would be possible on Tuesdays and Fridays when the bus goes but on other days there is no transport at all to Kazarman. So we decided to retrace our steps to Balykchy and head to Bishkek. There we finally found a car to take us to Bazaar Korgon, on the road to Osh, where we could find a car for Arslanbob. A young man in an oversized suit told us we could be there by 9pm. We should have insisted that he answered why he could do it in 6 hours when everyone else told us 8-11 hours. Before we left Bishkek he asked us if we had a map of Kyrgyzstan. Alarm bells were ringing. We'd just packed the back of the car with enough mattresses and blankets to open a hotel, a TV, boxes of household goods and an ironing board. His friend didn't seem like an overly confident driver and they were using a plastic children's map of Kyrgyzstan to navigate. Over a greasy meal of manti at 9pm Uzgen admitted that maybe we wouldn't get in to Bazaar Korgon on time. No kidding. Maybe around 1 or 2am? At 3am we were driving around trying to find a) Bazaar Korgon and b) a place for Brett and I to stay. We never did find the latter so all 4 of us tried to sleep in the car for about 3 hours then the boys headed on toward Osh and we tried to find a share taxi that would take us to Arslanbob for a fair price.
Thankfully Arslanbob was more than worth the pain of getting there. Set in a stunning valley with a range of snowcapped mountains to the north it was an idyllic village full of fantastically friendly people. Interestingly enough 99.9% of the people there are Uzbek and have been for a very long time. Nearby is the world's largest walnut forest where in a good season 3,000 tons of nuts are harvested. The harvest in a few weeks is only expected to yield about 10 tons because there was heavy rain in May which knocked most of the flowers off the trees. We were told that most people have kept some of last year's harvest or have other ways to support themselves so they're not in as dire a situation as they could be. We spent our time there wandering into the surrounding hills and looking down on the village as we played sho (a Tibetan game) and snacked on Haribo sweets. The  patriarch of our homestay spoke better German than I do, a relic of his time in the KGB.
In Osh, our final stop in Kyrgyzstan we've had some down time and explored the Sunday market. There are also some great restaurants near our hotel, simple places serving laghman, naan, chai, manti, shashlik and other staples of Kyrgyz cuisine. At the market you could buy just about everything except lipbalm, something I found hard to believe given the dryness of the climate. At the stalls selling baby products they also had a large selection of contraceptives and I'm not really sure how to read that. "buy these condoms or you'll need these nappies" or "look at what happened last time you didn't use these condoms, better stock up while you're buying baby formula".
We may be heading to Tajikistan tonight, or tomorrow morning depending on whether we can find two more people to share a taxi to Murghab. At the moment it looks like Brett will be heading back to work at the end of September but we're not sure. If he does I may meet him in Georgia (the country, not the American state), Ethiopia or some other random place i can get cheap flights from Australia (if I go home). It's all a little up in the air at the moment but we're both looking forward to more mountains and fantastic scenery in Tajikistan. As for going overland from Tajikistan to Ethiopia, did you know that women can only get a tourist visa to Saudi Arabia if accompanied by their husband or brother? Scratch that one off the list, even if Brett does accompany me it doesn't sound like a place I'd want to go…
Tags: Eagle hunting, Issyk Kol, Kadji Sai, Karakol, Kyrgyzstan, Osh
This entry was posted on Monday, September 14th, 2009 at 5:54 am and is filed under
Kyrgyzstan
. You can follow any responses to this entry through the
RSS 2.0
feed. You can
leave a response
, or
trackback
from your own site.